Tuesday 16 February 2016 | anna
Great British Biscuits
There's nothing quite like enjoying a hot cuppa on a cold winter's night. But what would a cup of tea be without a biscuit to dunk? Traditional biccies are still Britain's favourites, but why settle for bland mass produced varieties when you could be baking your own delicious versions?
Here's our guide to baking five classic British biscuits.
Chocolate Digestives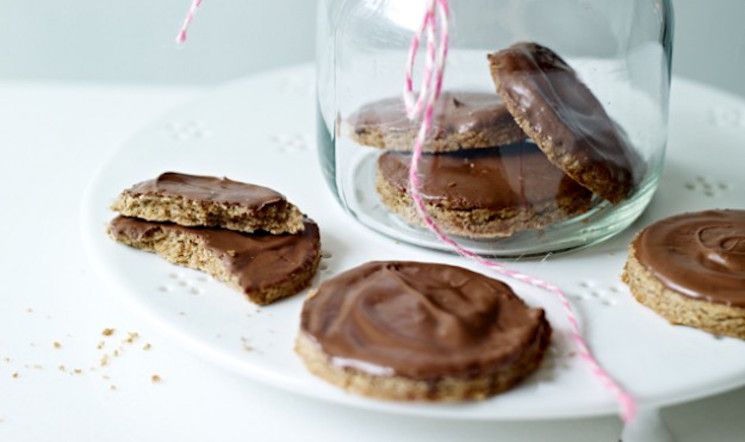 Delicious to digest!
Image source: Good to Know
According to a recent survey, these choccy delights are Britain's number one biscuit and blogger Tracy Knatt sings the praises of her home baked version. "Make these and you will never buy a packet from the supermarket again," she claims.
Tracy's recipe begins with blitzing oats until they are fine, then adding butter, muscovado sugar, flour and milk. Mix into a dough and chill for 30 mins. Tracey recommends rolling out your dough between two sheets of clingfilm, as you don't want to add much extra flour to it. Just fifteen minutes in the oven and you will be ready to dunk your digestives in melted chocolate to finish.
Custard Creams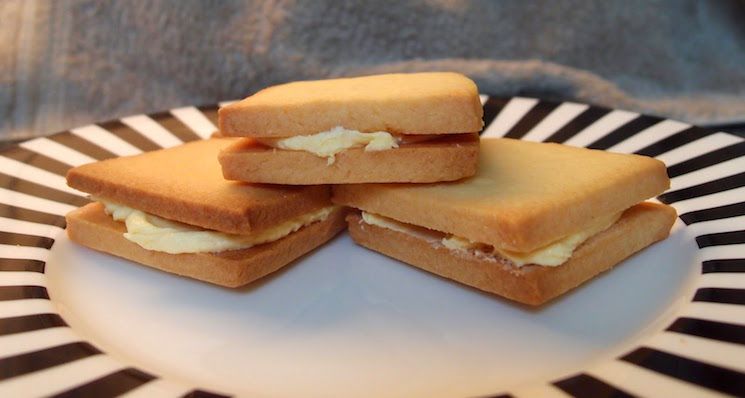 A custard-lovers classic
Image source: The Caked Crusader
Did you know that this classic biscuit actually appears in the Oxford English Dictionary? And why not? After all, it's a firm family favourite.
Caked Crusader Sam Carlton's recipe for custard creams may lack decorative squiggles, but the benefit of baking your own is that you get to control the size of the biscuit. " I have used the, 'I only had one biscuit' line many times, failing to explain that the biscuit was the size of a dinner plate," jokes Sam.
Make your custard creams by beating the main ingredients together to create a rich vanilla infused dough. Chill and roll out before stamping out the biscuits. Our new Petit-beurre Biscuit Cutter would be ideal for this.
Bake your custard creams for 8-10 minutes until golden. When they're cool, mix together the custardy paste and use it to sandwich the biscuits together. Now all you need to do is invite some friends to sample your home baked treats. We guarantee they'll be impressed.
Bourbons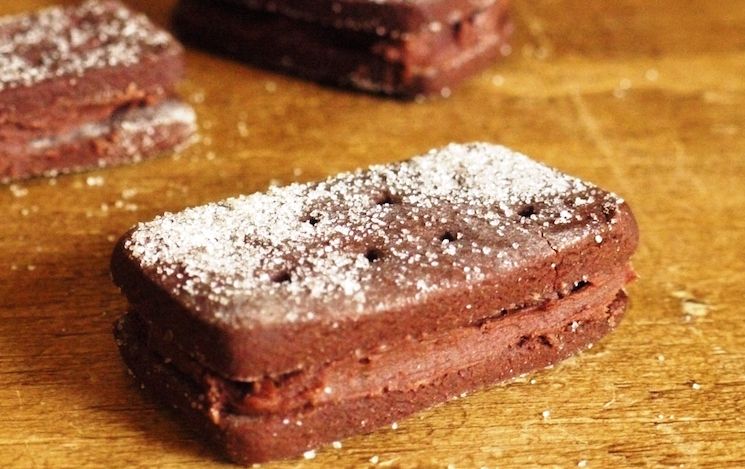 You can't beat this chocolatey treat!
Image source: Little Loaf
Named after the royal French House of Bourbon, these chocolate biccies are surprisingly easy to make, according to the team at BakingMad.com. Simply mix together all the dry ingredients, then add milk to make a dough. Wrap this in clingfilm to chill and roll it out. Try not to roll out your dough more than once though, or you could end up with tough dough.
Cut the bourbons out using a rectangular cutter and use a skewer to make the traditional pattern on top. Chill for a further 30 minutes, then pop your biccies in the oven for a 20 minute blast.
While you wait, blend together the filling ingredients to create a gorgeous chocolatey paste. Pipe this onto your bourbon bases, but wait until they're completely cool before you sandwich them together.
Now you might wonder how you could possibly improve on the chocolatey perfection that is the bourbon. Well, Kate of The Little Loaf, may just have succeeded with her grown up version of this classic.
"If you want to take it to a much more exciting-and totally child unfriendly level-add a splash of bourbon (whisky) to the chocolate cream," Kate writes. Her alternative recipe features a rich ganache, into which she stirs a teaspoon of bourbon. Why not give her version a try?
Jammy Dodgers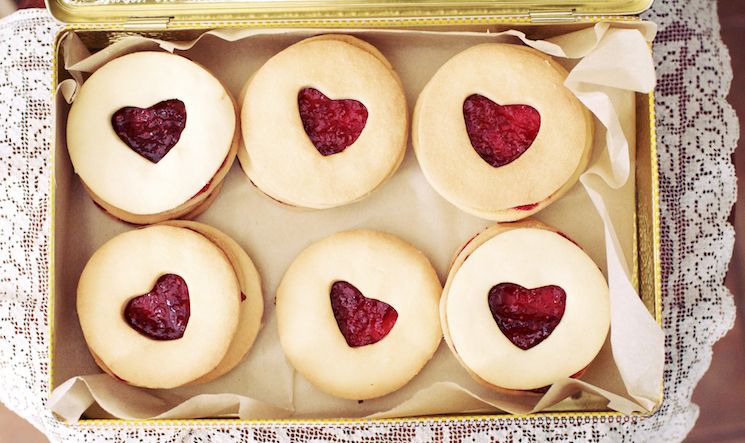 A gooey teatime treat
Image source: The Crafters Cottage
Fancy treating your kids to something special after school? Then pop over to the English Kitchen for a delicious nostalgic treat. Blogger Marie claims that her home baked jammy dodgers taste much better than the shop bought variety. Her recipe begins with making a simple buttery dough which is chilled for an hour, then rolled out to a quarter of an inch thick.
Use a round cookie cutter to press out the biscuits, or for a fun twist, why not try some funky shapes like stars or flowers? Our heart shaped biscuit cutter will be ideal for making Valentine's Day biscuits. Whichever shape you choose, you will need to stamp a hole in the centre of half of the biscuits before popping them in the oven.
After ten to twelve minutes, your jammy dodgers should be golden in colour. Cool them then sandwich together with a dollop of jam and serve.
Party Rings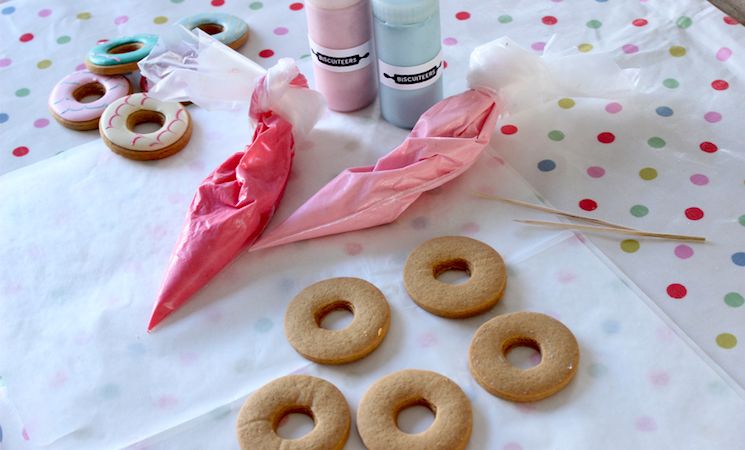 Relive your childhood
Image source: Biscuiteers Blog
Remember eating party rings at childhood parties? Well, now's your chance to wind the clock back with this simple buttery recipe from Good Housekeeping.
Whizz the ingredients into a dough, chill then roll out before you create the biscuit shapes using a fluted circular cutter. You'll also need a smaller cutter to create the hole in the middle.
Now you can get creative with coloured icing! Experiment with any combinations you like. If purple and blue are your favourite colours, give them a whirl!
Spread one colour across each biccy with a knife, then drizzle over a few lines of the contrasting shade. Here's the clever bit: To create the classic party ring pattern, simply pull a cocktail stick through the icing to feather it.
Bake your pretty creations for 12 minutes and enjoy with friends. Better still, get your kids busy in the kitchen and teach them how to make their own!
So, whether you prefer the crunch of a custard cream or the gooey goodness of a jammy dodger, there's a classic British biscuit to suit everybody. Let us know your favourites, and why not have a go at baking your own.
Beautiful biscuit cutters
Feeling inspired to bake your own versions of classic biscuits? Then make them look beautiful with our new range of biscuit cutters: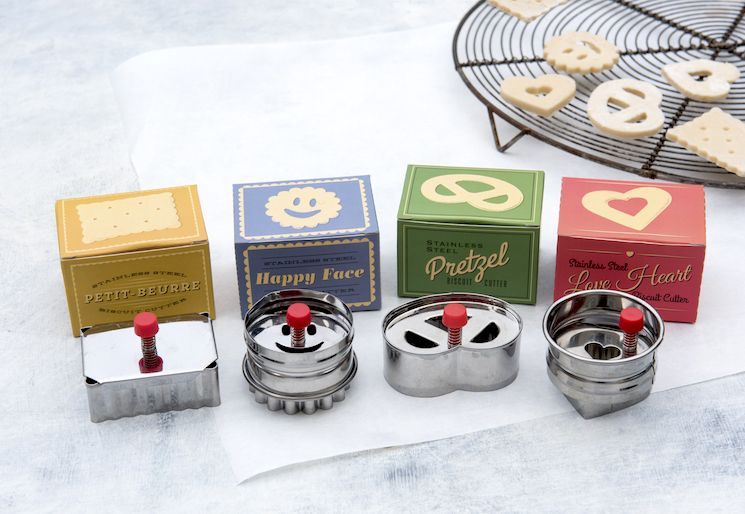 Pictured (from left to right): Petit-beurre biscuit cutter, Happy face biscuit cutter, Pretzel shape biscuit cutter, Love heart biscuit cutter - all £2.95