A quintessentially British afternoon tea in the garden (minus the rain!)
Like us, blogger Lauretta Wright from Home and Horizon loves a good Rex London sale. Here she outlines some of her top picks from this year's Summer Sale to create a gorgeous afternoon tea in the garden.
I always get excited when Rex London has a sale – it's a great excuse to bag loads of great buys without actually spending a lot of money – and who doesn't love the idea of getting a bargain haul?
My inspiration for my Summer Sale haul came from enjoying afternoon tea at a local farm. And what's not to love about afternoon tea? It's quintessentially British, is a great excuse to drink copious amounts of tea and stuff your cake hole to your heart's content.
I hadn't experienced afternoon tea in a while, and if I'm honest, I'd forgotten how good it was…the little finger sandwiches bursting with flavour, the warm scones and clotted cream and the little pastries and cakes. I wanted the experience to last and I did my best to savour every moment.
But alas it had to come to an end. I hadn't managed to consume all of the afternoon tea delicacies – and that's when the doggy bag came in handy! 
But it got me thinking; maybe I could recreate afternoon tea at home? I mean, the scones and little cakes I could do, the finger sandwiches were a synch…all I needed was some nice outdoor tableware and décor – and of course, some sunshine.  
The supporting acts
When I clapped my eyes on the Desert In Bloom side plates and matching beakers and accessories, I knew I'd landed on a winner.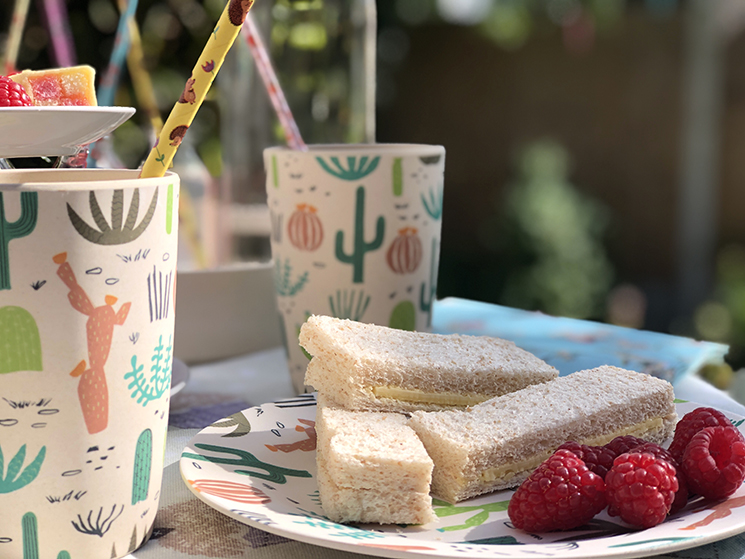 Desert In Bloom bamboo beaker, was £4.95, now £1.95
Desert In Bloom bamboo plate, was £4.95, now £1.95
Made of bamboo and being durable, it was perfect for the outdoors, plus it was quirky and colourful – just like my garden. I had to get my mitts on the beakers, plus the tray finished off the look perfectly – and gave the impression that I was organised and had given careful consideration to the table aesthetics! 
My other table 'supporting acts' came in the form of a French table water bottle, 'Rusty and Friends' and Rose paper straws – perfect for afternoon tea in the garden.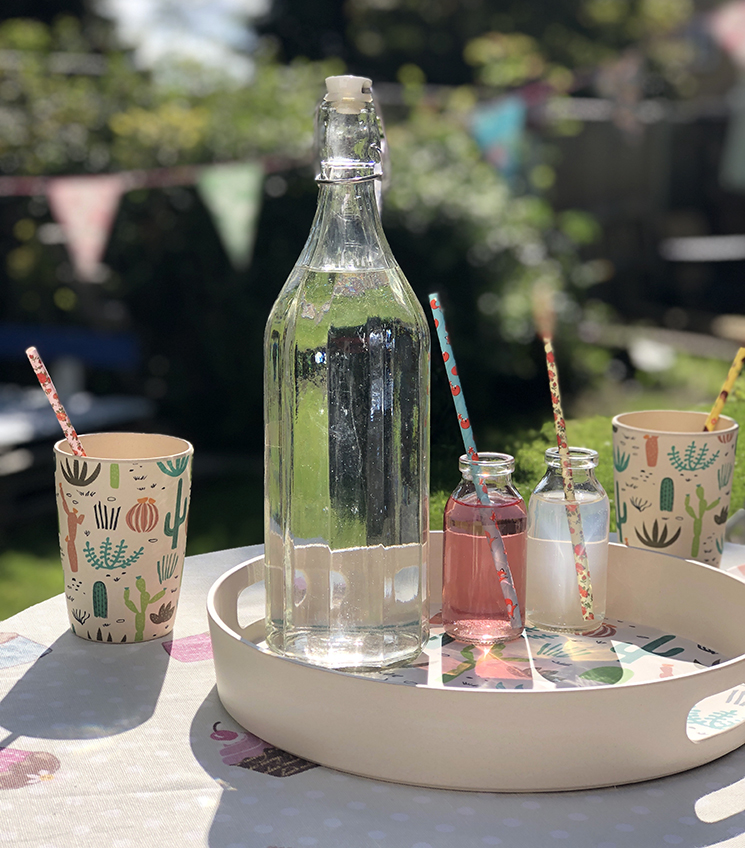 Desert In Bloom bamboo tray, was £14.95, now £3.95
French table water bottle, was £4.95, now £1.95
Assorted rose paper straws, was £2.95, now £1
Rusty and Friends paper straws, was £2.95, now £1
The wrap party
Now that afternoon tea was served, it was too good to enjoy alone, so I invited a friend over who was about to celebrate her birthday that week. 
"I like your plates and beakers", she told me. 
I couldn't help smile to myself. Little did she know that I had bagged this gorgeous Hummingbird wrapping paper in the sale and used it to wrap up a couple of Desert In Bloom notebooks for her – she was going to be getting the exact same pattern in notebook format! Not only was she delighted at my thoughtfulness (she's never without a notebook in her handbag), it looks like I nailed the right design too!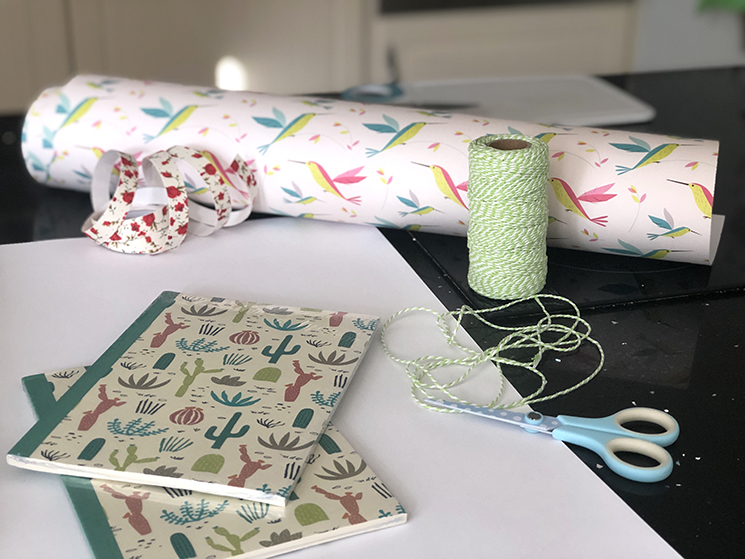 Hummingbird wrapping paper (5 sheets), was £6.95, now £2.95
Desert In Bloom A5 notebook, was £2.95, now £1
Other great finds in the Rex London Summer Sale included green and white bakers twine and floral fabric gift tape to help secure the wrapping. Have a browse online in the stationery section – there's plenty to find.
Mission possible
Having waved my friend goodbye, I turned to tackle the clear-up mission. Sadly, a couple of months ago my dishwasher gave up the ghost and I haven't yet been able to replace it.
So as a family we've been tackling the daily washing up – and rather worn down the sponges and tea towels. 
So I couldn't resist adding these funky Folk Bird sponges to my online basket, as well as these pretty Rose Hip and Daisy tea towels – anything to brighten up an otherwise dull task, right?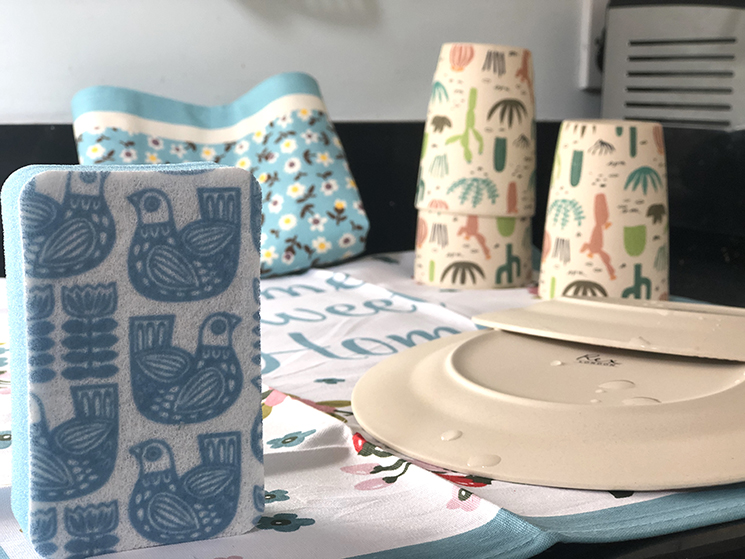 Folk Bird sponges (set of 3), was £1.95, now 50p
Rose Hip tea towel, was £4.95, now £1
Daisy tea towel, was £4.95, now £1
So what are the lessons I learnt for getting afternoon tea in the garden spot on? Here are just a few…
1.    Don't hurry the occasion. Afternoon tea should be a relaxing experience, there to be savoured and enjoyed – and unless rain is forecast then eat slowly and enjoy every bite. 
2.    When it comes to traditional afternoon tea, make sure you get the stack right – working up from the bottom, display a layer of finger sandwiches, working up to a layer of small pastries and cakes, followed by a layer of scones, clotted cream and jam on the top – or you could opt for teacakes if you prefer. 
3.    Think about the setting for afternoon tea; where possible use pretty table cloths or napkins to brighten the table up. Paper straws also work a treat and serve up afternoon tea in style with dedicated plates and cups like I've done.
If I've whetted your appetite for afternoon tea in the garden, then great! Our unpredictable Great British weather means that I can't promise you that it won't rain, but then again, why let a little rain spoil the fun? There's always the garden parasol to rely on! 
Many thanks to Lauretta for her tips for an alfresco afternoon tea! If you're feeling inspired, be sure to pick up your own bargains in the Summer Sale while you can.