10 family-friendly festivals
If you think kids and festivals don't mix, think again. A survey from 2016 shows 70% of parents would rather take their kids to a festival than to the beach, and popularity of kid-friendly festivals continues to grow. Read on to discover our top ten family-friendly festivals.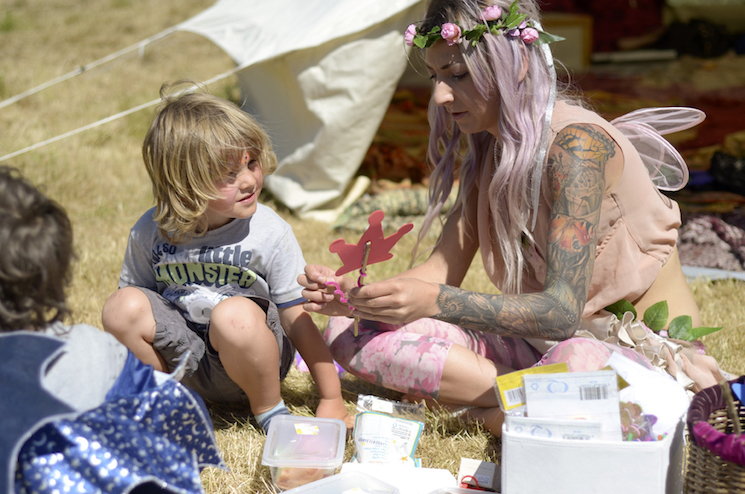 Children are enchanted by the festival fairies
Image: Webb Family Photography
A fabulous faery parade kicks off Cornwall's annual 3 Wishes Faery Festival. Storytellers, musicians and fairytale characters wander around the site, enchanting children of all ages and adding to the magical atmosphere. This year's programme even includes a world record attempt to gather the most faeries in one place.
If your little ones like fairies and magic then this is a must visit. Just make sure you go 'full-fairy'. Creative kids will love to decorate the family tent with flower garlands or bunting, and for budding fairies and little elves, sparkly face paint and temporary tattoos are essential kit.

Glastonbury's 'Kidzfield' is a haven for family activities
Image: Shutterstock
Glastonbury might be sold out for this year, but it's worth bearing in mind for next year. As well as all the top music acts, the have a wonderous family area, Kidzfield. Describing itself as "where magic lives", this dedicated children's area is packed with performers, crafts, helter skelters and inflatables.
Close to the family camping area, all the activities are free, and despite the queues and the mud, mumfidential blogger Frances says it's well worth the effort:
'Yes, I say, a thousand times yes. I want my children to meet giant turtles, mermaids, fairies and dragons while they still believe in magic.'
If your kids are keen to go, The Art of Camping's Math recommends taking a trolley to cart your bags between the car park and your tent. That way, little ones can climb on board or help out by bringing their own backpacks. Even better, children aged 12 or under are admitted free to Glastonbury Festival!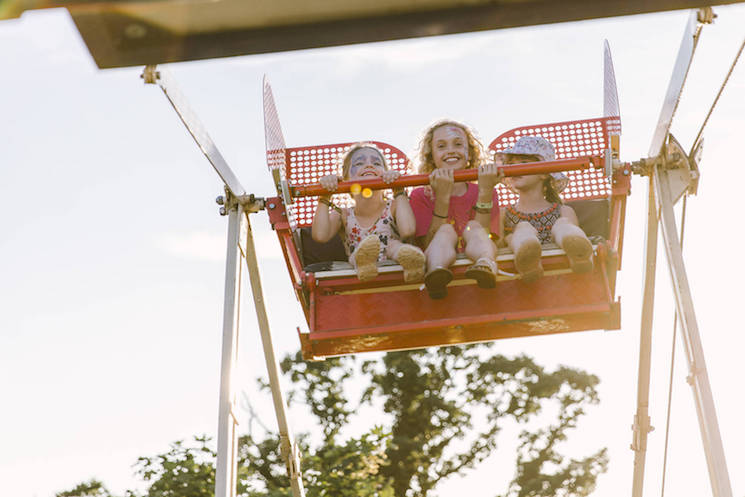 Kids, teens, and tweens will find something they love at Latitude Festival
Image: Latitude Festival / Lauren Maccabee
Teens will love the laid back atmosphere of Latitude Festival, which provides a designated area for over twelves. There, digital and music workshops, as well as fashion and film workshops offer young people the chance to learn alongside industry pros.
Meanwhile for the thrill seekers, the Greenpeace area includes zip wires and nets strung high in the trees. Enjoy coffee and cakes while your kids climb, or leave them to it while you head off to enjoy the music. For peace of mind make sure your teens carry a portable USB charger, to guarantee their phones stay topped up.
Latitude's family lineup isn't just for teens. Arts, crafts, games, beat boxing and musical theatre are just some of the activities on offer for younger kids. Plus there are always the festival sheep to pet.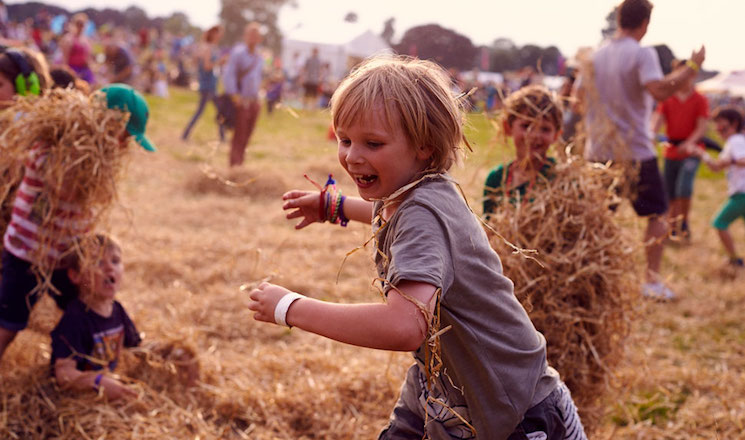 Make hay while the sun shines
Image: Deer Shed Festival
Blogger Karen of Mini Travellers loves the intimate feel of Deer Shed Festival, because with only 6000 revellers, the festival site is compact enough that everything's within easy reach. As Karen says: 'You can pop back to your tent for lunch or children's afternoon naps and the music tents are all in easy striking distance.'
Set in the beautiful grounds of Baldersby Park in North Yorkshire, the organisers' attitude to kids sets this festival apart: 'We don't have kid's areas as such, they're not zoo animals! The whole site is accessible to everyone.'
There's even a programme of events for tiny tots. Don't miss the sensory meadow, baby rave and giant baby bath tent! Older kids will love the festival's scooting and skating ramps, complete with half pipe, and the football skills sessions will be a thrill for budding soccer stars. And be sure to check out the legendary science tent, where kids can get stuck into experiments.
For us, the highlight of the festival is the fabulous choice of child-friendly theatre, music, dance and comedy on offer. If you'd rather not fork out for festival food, simply pop some snacks into our handy lunch boxes or snack pots.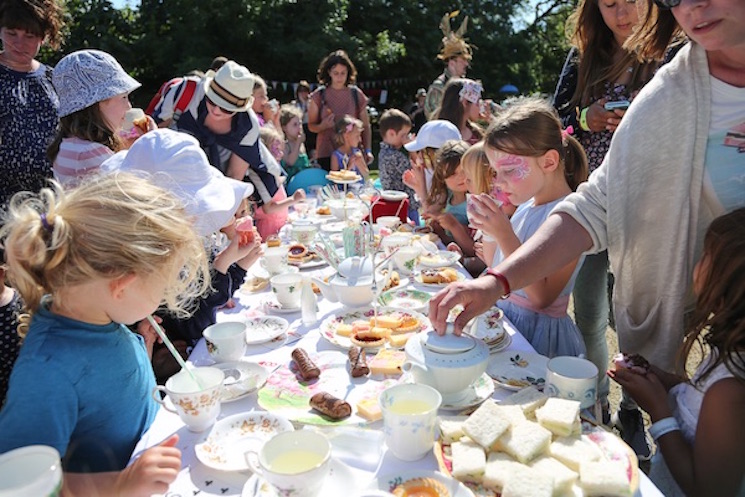 There's plenty of creativity on offer at Curious Arts Festival
Image: Curious Arts Festival / Liam Dickson
If you're looking for a gentler family getaway, we love the Curious Arts Festival.
Curious Arts is all about 'dreamy, eccentric fun'. Held in the gorgeous grounds of Pylewell Park in Hampshire, the emphasis is on creative arts, which makes it perfect for young imaginations. Little ones can go on a woodland hunt for Jabberwocky and there's even a kid's comedy festival called 'Yukfest'.
Giant Snakes and Ladders, chess, storytelling and puppet making are just some of the activities on offer here. Cuddle up with your kids to watch classic cartoons on the big screen and when they're ready for sleep, wind down in the bedtime stories tent.
And if you do find yourself in need of grown-up entertainment, musical performances, talks from famous writers or a trip to the wellness spa, should tick the right boxes. Take along a stylish flask and treat yourself to a coffee while you relax and unwind.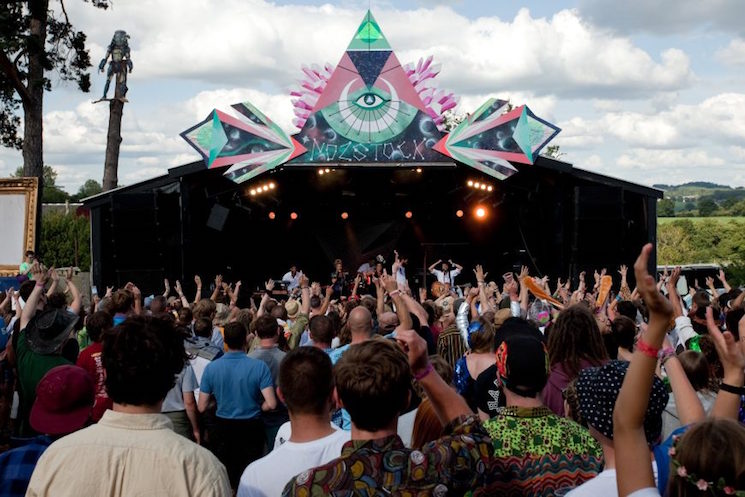 Nozstock is perfect for your first family festival
Image: Mum In The Madhouse
If you're planning your family's first ever festival experience, Nozstock is a great place to start.
Based on a farm in Herefordshire, Nozstock is affordable and manageable for little legs. It took Festival Kidz reviewer Debra Welsh under ten minutes to walk from car park to family camping area, and the main stage was only five minutes away. But despite being fairly intimate, Nozstock is buzzing with brilliant family activities:
'My boys partook in bhangra dancing, kite making, children's yoga, glitter face painting, Lego building, storytelling, music making, Mayan mask making and so much more besides!'
Nozstock's mantra is 'bringing play to everyone.' With nine stages featuring music, comedy, magic, theatre, dance and film, this family festival is the perfect place to release your inner child. It's hard to imagine, but if there's a pause in the action, or you fancy a break from organised activities, keep the creativity going with our wooden play sets and puppet theatre.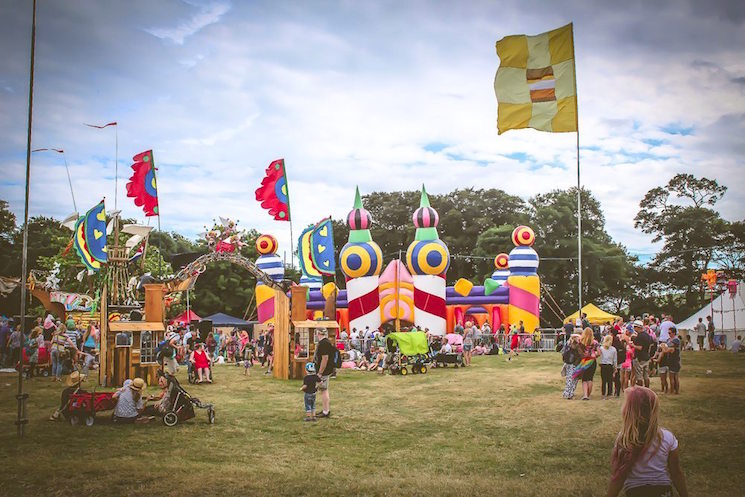 So many great ways to let off steam
Image: You Baby Me Mummy
'The speed of contentment is slow motion' say Camp Bestival's organisers. Held in the grounds of Lulworth Castle, here's a festival that offers a touch of luxury. If you don't fancy camping, how about booking a pre-pitched yurt or tipi? You can even hire a cushioned trolley to keep your kids comfy and cosy while you enjoy a late night performance on the main stage. Genius.
Little sister to Bestival, Camp Bestival focuses on families with children and attracts a crowd of 30,000. As well as big names, there are plenty of quirky acts to discover. Little ones will enjoy the antics of Mr Tumble and this year there's a giant kids disco featuring the world's biggest disco ball.
But Camp Bestival also offers plenty of opportunities for old fashioned fun. Aby of You Baby Me Mummy says her three year old enjoyed the 50 things meadow:
'There was tree climbing (with proper climbing equipment), various things to make and little groups doing things like rolling down the hill races, and learning to make grass trumpets!'
There's a separate area for teens where they can try break dancing, beat boxing and even record their own music in a mini studio. Sport-loving teens have access to a skate park where they can also have a go at parkour, bouldering or BMX.
As well as providing excitement for youngsters, the Camp Bestival organisers know how to look after parents. Holistic treatments include reiki and head massage, and there's also a nail bar. 

The Just So forest is full of stories
Image: Shutterstock
Just So Festival is about kids, says Colette of We're Going On An Adventure:
'This isn't a grown up festival where kids are welcome, it's children's festival where the grown ups have fun too!'
Set in magical woodland on the Rode Hall estate in Cheshire, if you're heading to Just So this year, go prepared to play. We're talking giant pillow fights, midnight feasts, songs around the campfire, and barefoot woodland walks.
Head into the Spellbound Forest for storytelling and acrobatics, or if you're keen to learn circus skills and enjoy family friendly theatre, check out Village Green. With baby ballet and yoga for under 4s, as well as a giant baby bath time, the programme for mini festival goers looks exciting too.
And if you've got time at the end of the day, why not continue the fun with a few family travel games. An excellent way to wind down before lights out.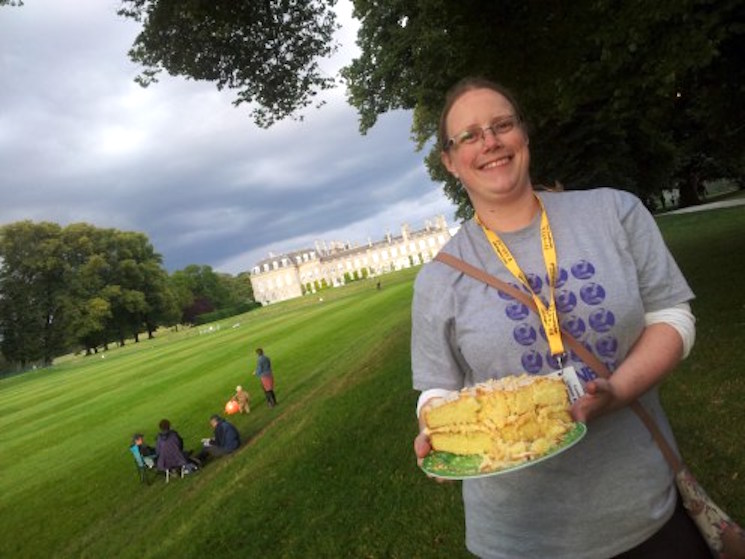 Satisfy your sweet tooth at Greenbelt
Image: Clandestine Cake Club
Fun, faith, culture and activism are all on offer at Greenbelt Festival. If you visit you'll experience music with a message and theatre that'll leave you thinking. 
Established in 1974, Greenbelt caters for all ages and features an excellent app designed to help you check out all the events before you arrive.
Whether you're viewing a family film or watching your kids get stuck into crafts, the guys at Greenbelt guarantee you'll never be far from a refreshment tent. Older kids and teenagers have their own space featuring pop-in performances from main stage acts.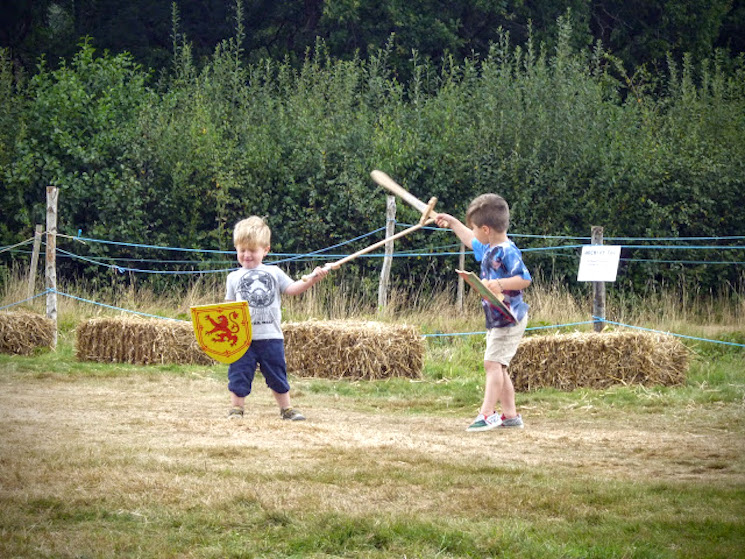 Blogger Naomi's knights- in- training
Image: Tent Sniffing for Beginners
Do your kids love castles, knights and dragons? Then we've got the perfect festival for you. Held at Herstmonceux Castle, England's Medieval Festival offers families the chance to step back in time. Kids have their own kingdom packed with activities fun, educational activities.
The highlights of each day include witnessing a joust in a full size tiltyard and watching 500 actors recreate a siege. Living history encampments give families an insight into 15th century life and you can wander around the medieval market, where over 200 craftsmen and traders sell their wares.
But you don't have to rough it. Unlike in days of old, you can drive to your camping spot to dump your bags before parking in the carpark. And if camping is too rugged an experience for you, there's also glamping on offer.
Looking for a unique festival experience? Head to Herstmonceux castle this August.
This article was originally published in June 2017, and has since been updated for 2019.